WEBSITE
Is a collection of web pages and related content that is identified by a common domain name and published on at least one web server. OR in other words ,websites is a central location of web pages that are related and accessed by visiting the home page of the website using a browser.
Their is a lot different types of websites; some are
Business Websites.
Blogs.
eCommerce Websites.
Portfolios.
Event Websites.
Online Forums.
Personal Websites.
Membership Websites
Step-by-Step Guide for Beginners how to create a website
3 Simple Steps to Make Your Own Website
Choose Your Website Platform

Find a Domain Name and Host

Set Up a Website and Start Designing
Choose Your Website Platform
platform is the basic hardware (computer) and software (operating system) on which software applications can be run.
Choosing a website builder also known as a website platform is akin to selecting the foundation when building your home. Everything that follows, the look, functionality, user experience, maintenance, adding on, and more will all be determined by this choice. The most important question when choosing the correct platform to build your website is what you plan to accomplish with your website. Some platforms are better suited for e-commerce, others for security. All the following website platforms have their unique strengths and weaknesses, the idea is to choose a platform that not only works for your today but can grow at the same speed as your business.
It's generally recommended to select a website builder with a CMS- content management system as that can allow you more convenience in the control of your site. A CMS allows you to house your images, videos, PDFs, and more. This generally makes it much easier to edit and expand your website. It is also easier to organize and control 1 database with all necessary information
Commonly Used Website Builders
WordPress
Drupal
Magento
Joomla
Weebly….
But
As you can see, nearly half of the websites on the Internet are running on the WordPress website platfor, what makes them a better option than others?
Benefit of Using WordPress
1. WordPress is free
WordPress itself is 100% free, no fees attached, no strings attached, no guilt that you're using something you should be paying for, like when you don't pledge to your local NPR station even though you've listened every day for the last 20 years. (You know who you are.)
You can download the software from WordPress.org (note the .org), and it won't cost a thing. You and your friends can get together and have wild WordPress download parties (socially-distanced and masked up, of course), and it's all good.
The one downside is that you need to host WordPress somewhere. There are two options: 1) Self-hosted, where you take care of the hosting costs and maintenance/security responsibilities, and 2) Managed hosting, where you pay someone else to take care of the hosting and much of the maintenance and security for you
2. It's highly customizable and user-friendly
If you know how to use Google Docs, you already know how to add your own content. WordPress can be easily expanded with free add-ons to handle just about any site you can imagine – from small business websites to e-commerce sites. With WordPress "plugins" you'll be able to add contact forms, subscription forms, image galleries, stores, and so on for your website. And it's all pretty simple.
3. Themes Offer Multiple Options
WordPress themes offer users an array of choices for fine-tuning the appearance and functions of a new site, thanks to its large and growing directory basic and premium of themes. Many of these are instantly available to a new site owner through the WordPress theme directory, and thousands more can be purchased through design marketplaces and third-party designers from around the world. Themes can be previewed live and installed at any time to change the look and layout of a WordPress site.
4. Your site will be 'responsive'. Meaning it willl work on smartphones and tablets, too
The website you build will instantly be responsive, looking great on every mobile device, smartphone, and tablet. No need to hire a web developer for that.
5. Adding website content is fast and simple
When people talk about web design and building a website, this is actually the part that freaks them out. They think there's a lot of coding and design work that goes into making a single web page, and that adding the actual content is just a minor detail to be handled later.
But in actuality, most of that design work is already done
6. Plugins Extend Functionality
WordPress includes all the elements needed to create a basic site, but many users want more specialized functions related to a site's specific needs. The WordPress plugin directory includes hundreds of plugins—small pieces of code designed to perform specific tasks—that allow users to add features such as shopping carts, galleries, contact forms, and more to any compatible WordPress site. Users can also purchase and install hundreds of custom plugins from third-party developers. Plugins can be activated or deactivated and uninstalled as needed as a site evolves.
7. WordPress Sites Rank High
Search ability is key to ranking high on Google and other search engines. WordPress sites tend to rank high for their keywords, largely because they're constantly being updated and because WordPress includes a variety of tools and plugins for optimizing content for SEO (search engine optimization).,
8. WordPress Sites Have a Built-In Blog
Since when WordPress is a content management system software, it has multiple features that make publishing content easy. One of these is a "built-in" blog feature that can be accessed from any device, at any time, so that users who want to add a blog to their website don't have to create one separately. That makes it possible even for sites unrelated to blogging to use the blog feature for adding updates or announcement..
9. The WordPress Community Offers Support
Because WordPress is free and open source, it's supported by WordPress-loving communities around the world. This community of WordPress lovers is responsible for making changes to the source files and keeping WordPress updated and secure. The WordPress community also engages in plenty of outreach to users, hosting WordPress camps around the world and supporting the growth of local WordPress user groups.
WordPress is used by over 30 percent of CMS-based websites worldwide, and it's easy to see why. WordPress makes the essential tools to create a wordpress website available to any user, not just experienced web developers, and those tools can equally support a small personal site and a large, complicated corporate web portal. With an array of features such as themes and plugins designed to extend its functions, WordPress works for all kinds of sites.
If you are building a WordPress site, you should consider a hosting provider that offers WordPress hosting. This will help save time and allow you to access your WordPress dashboard through your account.
Find a Domain Name and Host
Domain names
are a key part of the Internet infrastructure. They provide a human-readable address for any web server available on the Internet.A domain name (often simply called a domain) is an easy-to-remember name that's associated with a physical IP address on the Internet. … For instance, the domain name example.com might translate to the physical address 198.102. 434.8. Other examples of domain names are google.com and wikipedia.org
Anyone can buy a domain name. To do so, you visit a domain name registrar, such as A2, GoDaddy, or Namecheap, key in the domain you want to buy, and pay a fee. You can't buy just any domain, of course—only one that isn't already registered by another person or business and that bears a valid domain suffix. In general, you'll want to buy something that is catchy and short so that it's both easy for people to remember, and easy for them to type in—like "PCMag," for example. That good search engine optimization (SEO) and it's also common sense. You might also want to do some research on key terms for your business. If you can get a good one into your site's name, that's all the better, from an SEO perspective.
A Web host
is an organization that sells or leases memory space on its servers. Web hosting is typically done in a data center, which provides services to clients that enable them to publish websites on the Internet. A Web host can also provide data center space and an Internet connection for servers owned by others. The service provided by a Web host is called Web hosting
What kind of domain name should I choose?
When you're choosing your domain name, there are a few rules you should keep in mind:
If you're setting up a business website, your domain name should match your company name. For example: YourCompanyName.com
If you're planning on making a personal website for yourself then YourName.com can be a great option.
Domain names usually end with .com, .org or .net, but in recent times, a large number of domain extensions (the last part of the web address, like .com or .org) have come out, ranging from .blog to .party.
Set Up a Website and Start Designing
1. Install WordPress Site
There are two possible ways to install WordPress, one MUCH easier than the other.
1. TO CREATE A WEBSITE WITH WORDPRESS, USE ONE-CLICK-INSTALLATION:
Almost all well-established and reliable web hosting companies have integrated one-click installation for WordPress these days.
If you chose to sign up with Bluehost or any other similar hosting company, you should find your "one-click installation" either in the account creation process or in your account control panel.
For example, these are the steps you need to follow to install WordPress on Bluehost (the process is very similar or even the same on all the most popular web hosting companies):
Go to Bluehost.com
Choose your hosting plan (cheapest plan is fine)
If you already have a domain, type it there
Fill in your information and choose your hosting length (you can remove the "Extras").
Go through the payment process and create your account
Log in to Bluehost use "one-click WordPress install" to Install WordPress
If you're unable to locate it, look here: How to Install WordPress on Bluehost.
2. MANUAL INSTALL (if your web hosting provider doesn't have an easy way to do it)

If for some odd reason (some hosting companies don't provide one-click-install for WordPress) you don't have the option to install WordPress automatically, look at this manual guide below:
Installing WordPress Manually (Click to expand)
2. Choose a Theme for Your Site (Free or Premium)
For the next step, we'll be diving into WordPress themes and how to use and customize them.
WordPress themes are design templates that make changing your site's looks a lot quicker and easier.
Luckily, WordPress has loads of themes to choose from. The official WordPress theme directory alone contains more than 8,000, which are completely free to use.
You can access themes directly from within WordPress without having to navigate to an external site.
For that, simply go to Appearance > Themes, and click the large + sign that says Add New Theme.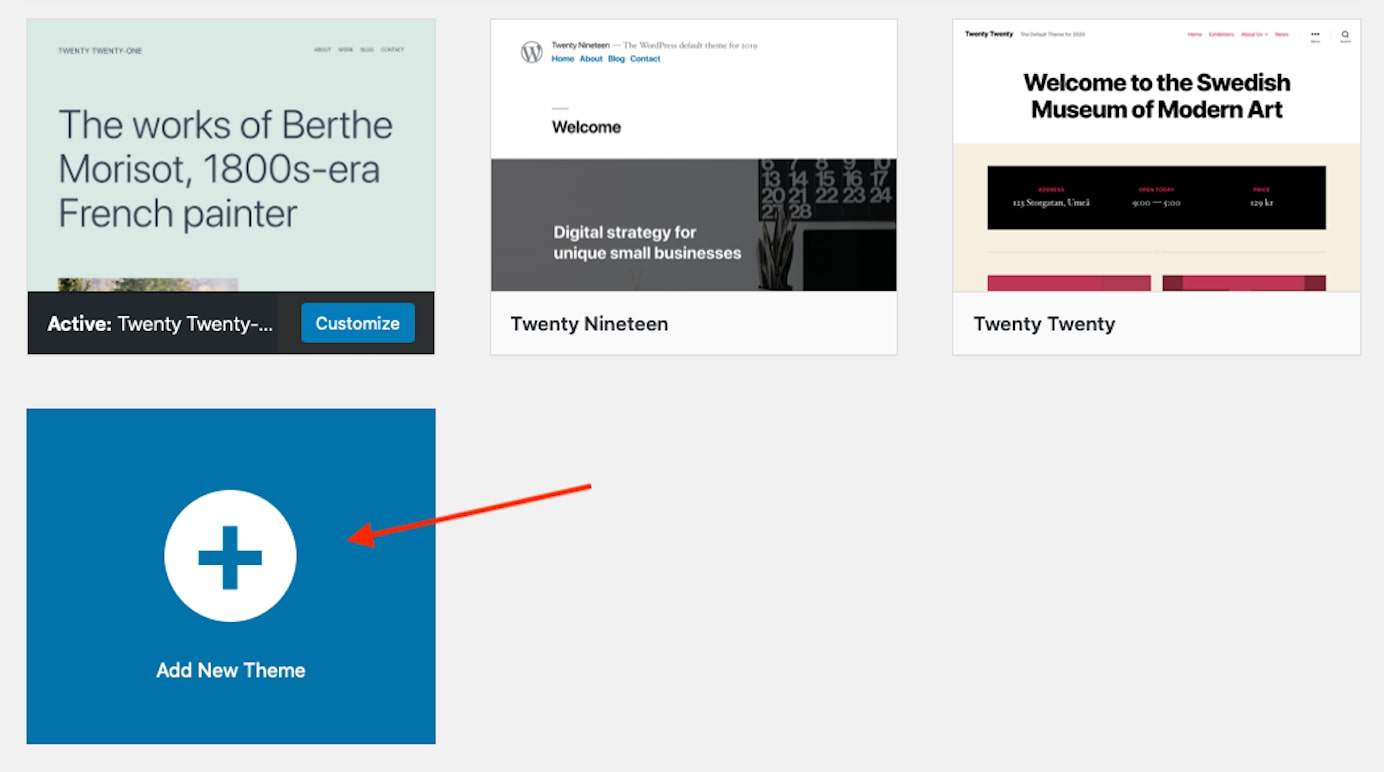 Then, use the search bar to find a theme that suits your site.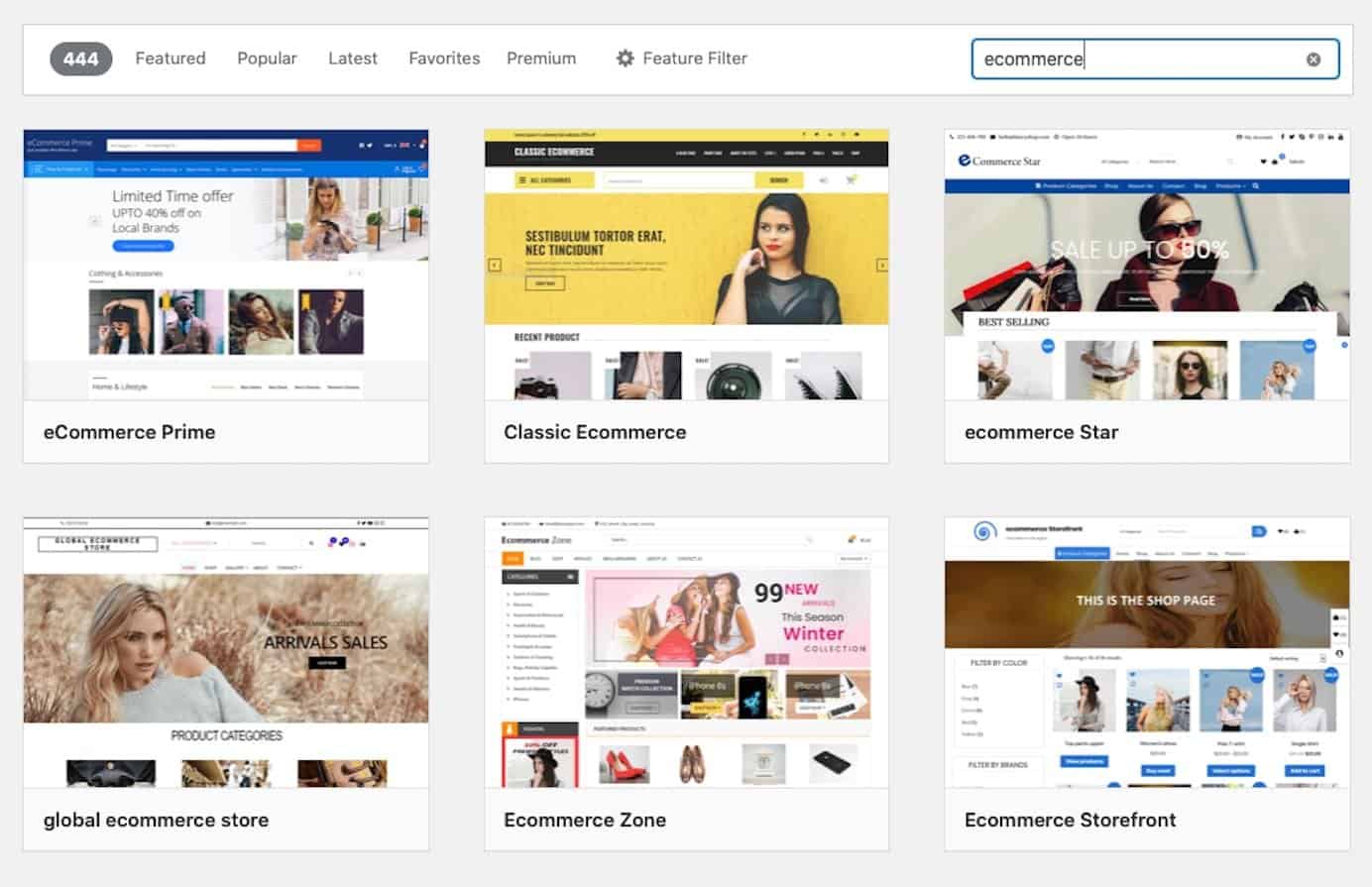 You can click on any theme in the listing to view a demo of it and read more about its features on its Details & Preview screen.
Once you find a theme you like, install it by clicking the Install button in the Details & Preview screen.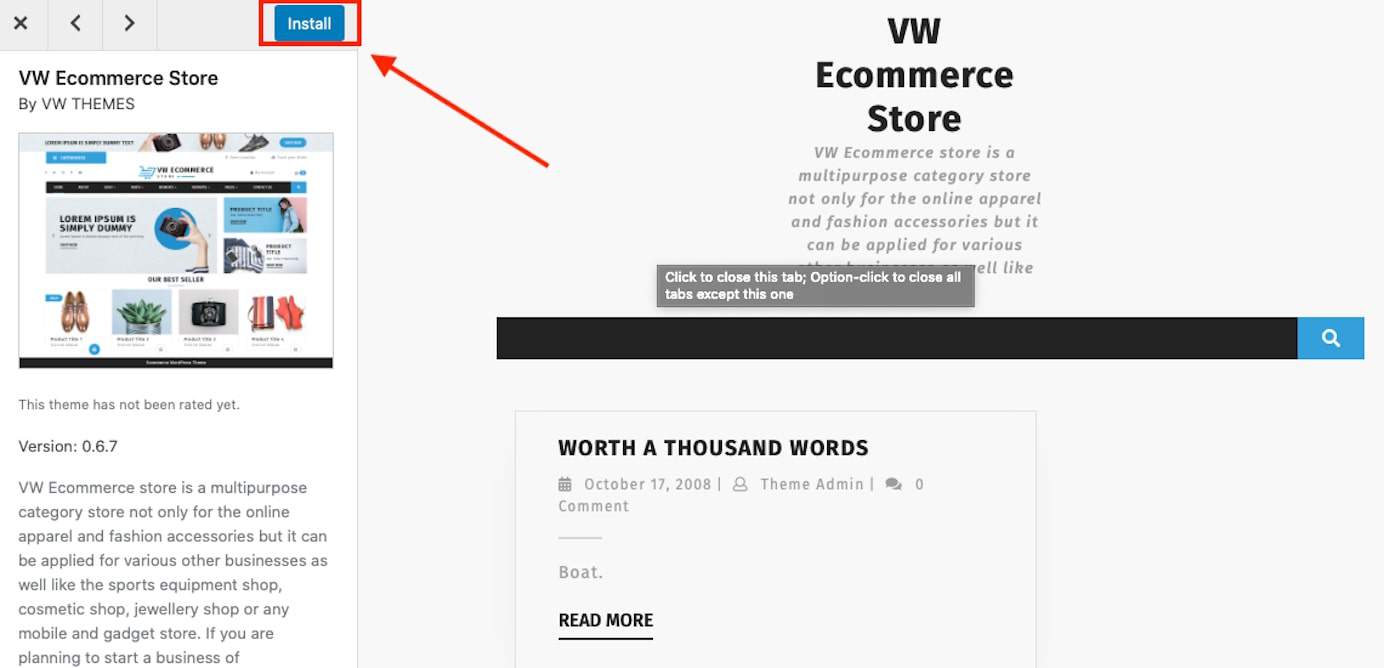 Once the install process is complete, click the Activate button that appears where the Install button used to be.
If what's available in the official theme directory doesn't suit your needs, check out premium theme markets such as:
3. Add Content (Pages and Posts)
Before getting to site customization, you need to have some content on your site,.After all, it's hard to customize your site when there's nothing on it to show the changes. What you need in terms of content will vary depending on the subject matter of your site and your goals.
However, there are a few key pages that nearly every site has:
Homepage
About page
Contact page
In deciding which pages to add, consider what information would be most helpful to your visitors. You'll also need to think about visual content, such as photos.
To make things easier, some WordPress themes come with page templates for specific page types. Others also come with more than one layout option for each page.
To take advantage of these, go to Appearance > Customize.
In this example, we're using the latest WordPress default theme, Twenty Twenty-One to create a site. By default, it uses a static page as the homepage that you can configure under Homepage Settings. Use the dropdown menu to select which page you want to serve as your website's homepage.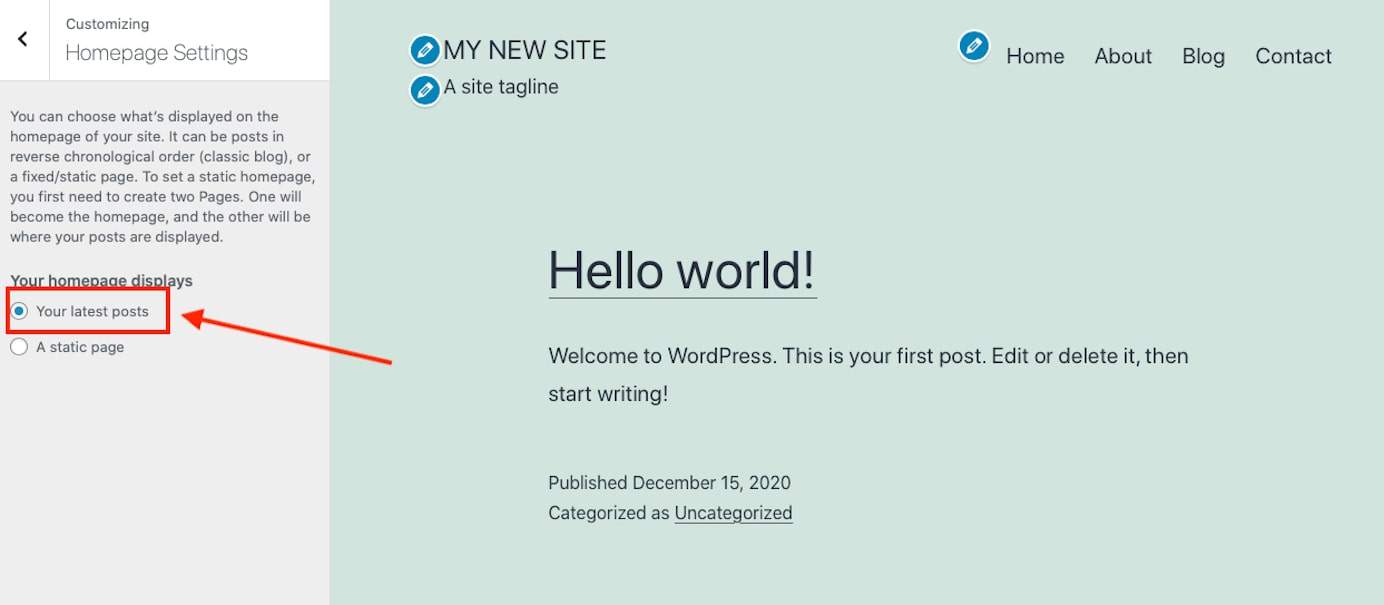 Alternatively, if you want your homepage to feature your latest blog posts, check choose the option Your latest posts.
Confirm your choices by clicking Publish in the upper left corner.
After that, you can move on to creating new pages for your site. For that, in the main dashboard, go to Pages > Add New.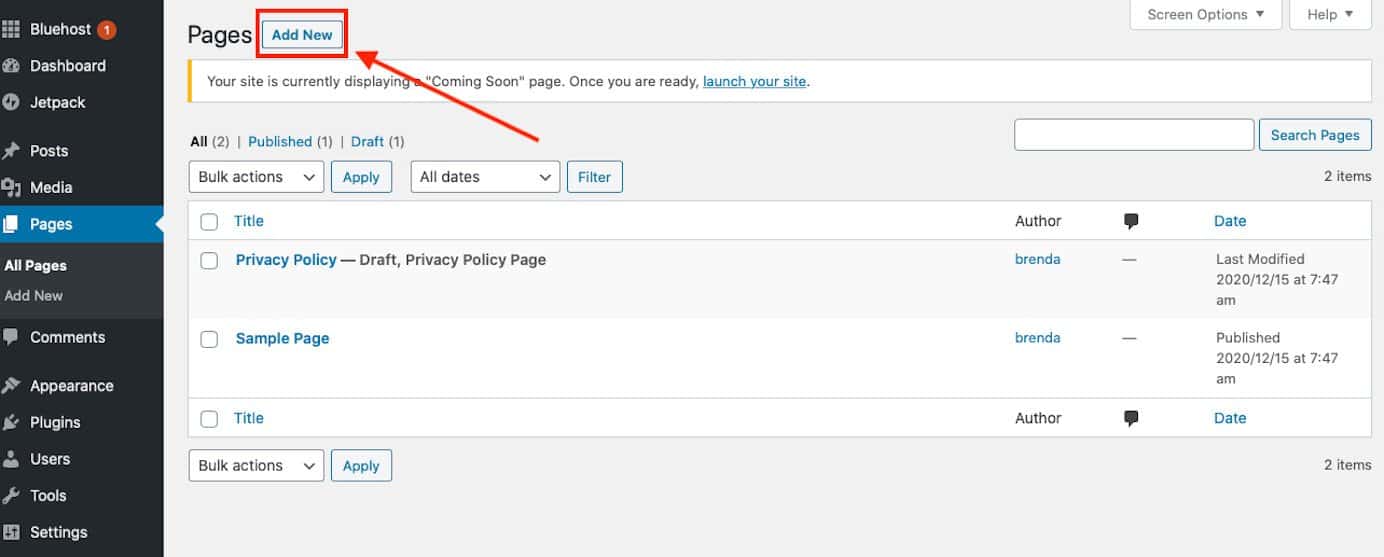 The Twenty Twenty-One theme relies on the Gutenberg editor, so here I can add page titles and content.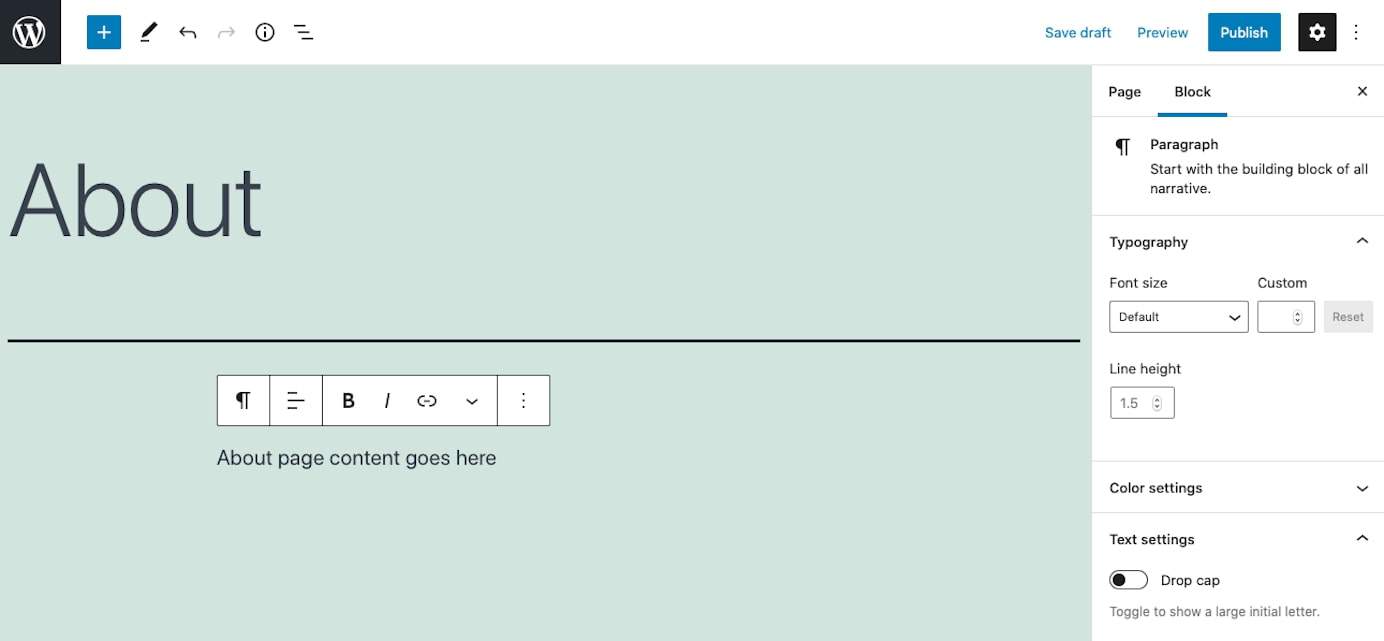 Within this page, you can add features like images and formatting.
Repeat this process to add additional pages to your site.
4. Make Sure Your Website is Well-Organized
Think of your website as a library.
Your website structure will become increasingly important the more content you add to your website.
When learning how to create a website, you need to get expert at organizing your site in a way that makes sense to your visitors and easy for them to get around it.
A crucial part here is the navigation menu. Once you've created some pages, it's time to make them available to your visitors on the site. You can do that under Appearance > Menus.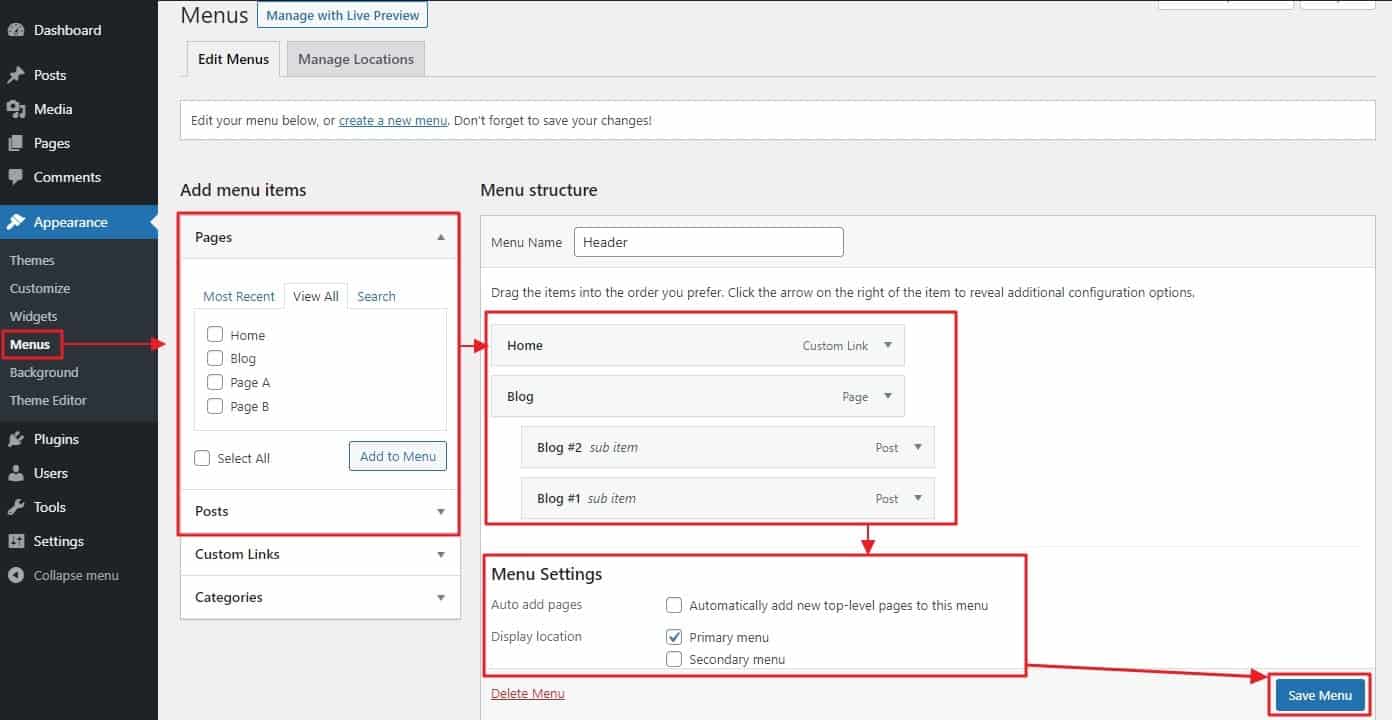 The first step here, is to give your new menu a name, then click Create Menu.
After that, you can choose which content to add to it on the left. For example, tick the boxes next to pages you want to appear in the menu, then click Add to Menu.
You can drag and drop menu items to your desired order and even turn them into sub-items by moving them underneath others like below. Once you are satisfied, choose the menu position where you'd like for this menu to appear (in this case Primary menu).
Click Save Menu again and go to your site's front end to see the new menu in action.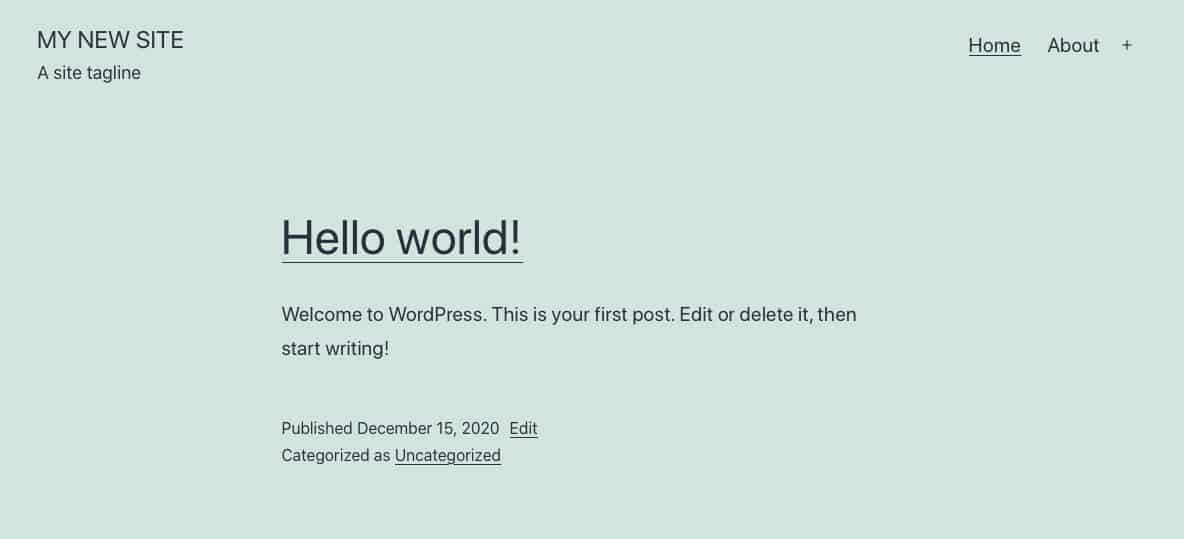 Ultimately, you want to reflect a structure that makes sense for your site and helps visitors get to where they need to go.
5. Additional Customization Options
For additional customization options, go back to Appearance > Customize. When you look around, you will see that it offers a lot more options to make changes to your site. You are able to modify other parts of your site like:
Title and tagline
Colors
Typography
Background image
Menus
Widgets
You can also make adjustments to your homepage, blog page, and add custom code. The options that appear will vary depending on which theme you've installed.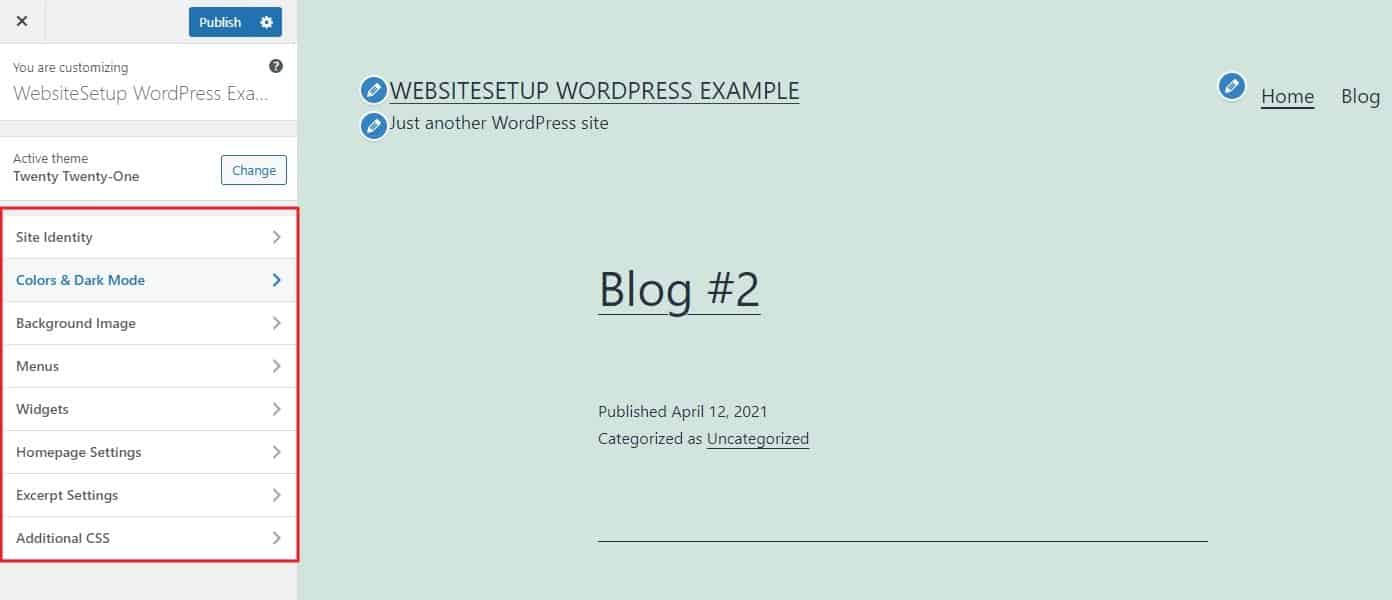 Beyond theme customization, there are many plugins available for WordPress, both free and premium. In the official WordPress plugin directory alone, you can find close to 60,000 plugins that can add all kinds of new features and functionality to your site. Plus, there are many more available from third-party marketplaces.
To install new plugins, navigate to Plugins > Add New.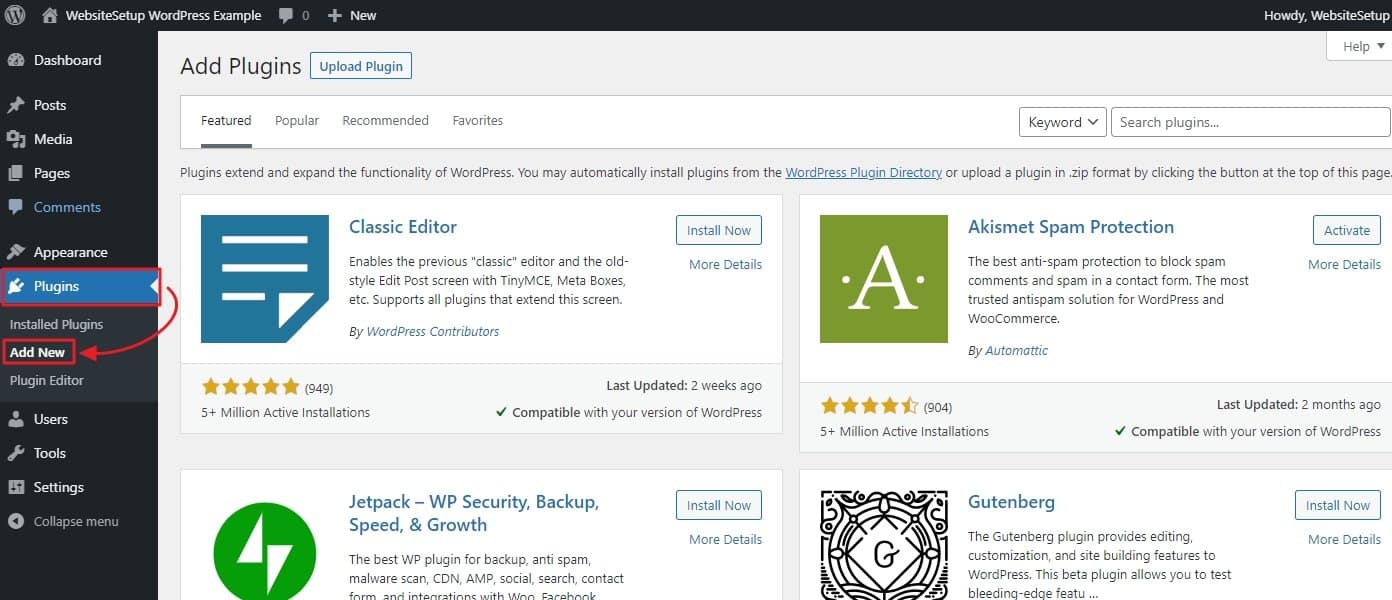 You'll be presented with a list of some of the most popular plugins currently available. Use the search field to find anything else you are looking for.
To get plugins onto your site, hit the Install Now button. Wait until it has been downloaded and then click Activate. You can find all plugins on your site plus the possibility to activate, deactivate, and delete them under Plugins in the WordPress main menu.
As to what plugins you should install, some choices worth considering include:
If you want even more control over how your website looks, you can install a page builder plugin. These plugins add drag-and-drop functionality to your site, which means you can visually build entire web designs, not just individual pages and posts. A few popular choices include:
Elementor – This all-in-one website builder offers visual website editing, fast load times, and a vast selection of templates to choose from.
Divi – Developed by Elegant Themes, Divi provides another straightforward way to customize websites.
Beaver Builder – An easy-to-use page builder plugin that speeds up website design considerably.
Not every website needs a blog. However, creating one can be a good idea to regularly publish fresh content, display your expertise, and provide additional value for your visitors.
To add a blog in WordPress, you first have to select a blog page. Above, I have already covered that you can configure your homepage to automatically display your latest posts. However, if you want a dedicated blog page instead and keep your homepage static, you first need to create it.
This is as simple as setting up an empty page (Pages > Add New), naming it Blog (or whatever you want but Blog makes sense because it will automatically create the address yoursite.com/blog for your blog page), and publishing it. Then, pick it as your Posts Page either under Appearance > Customize > Homepage Settings or under Settings > Reading.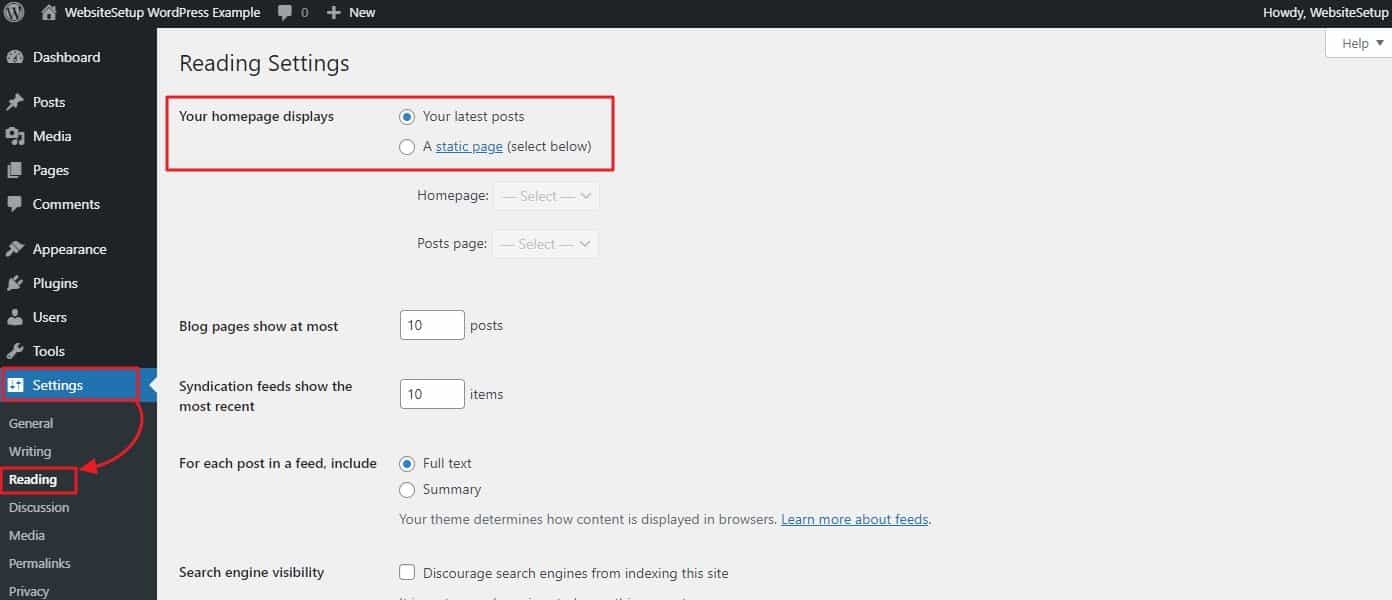 When saved, all blog posts will automatically appear on your chosen page. Don't forget to add it to your navigation menu!
To add blog posts to your website go to Posts > Add New.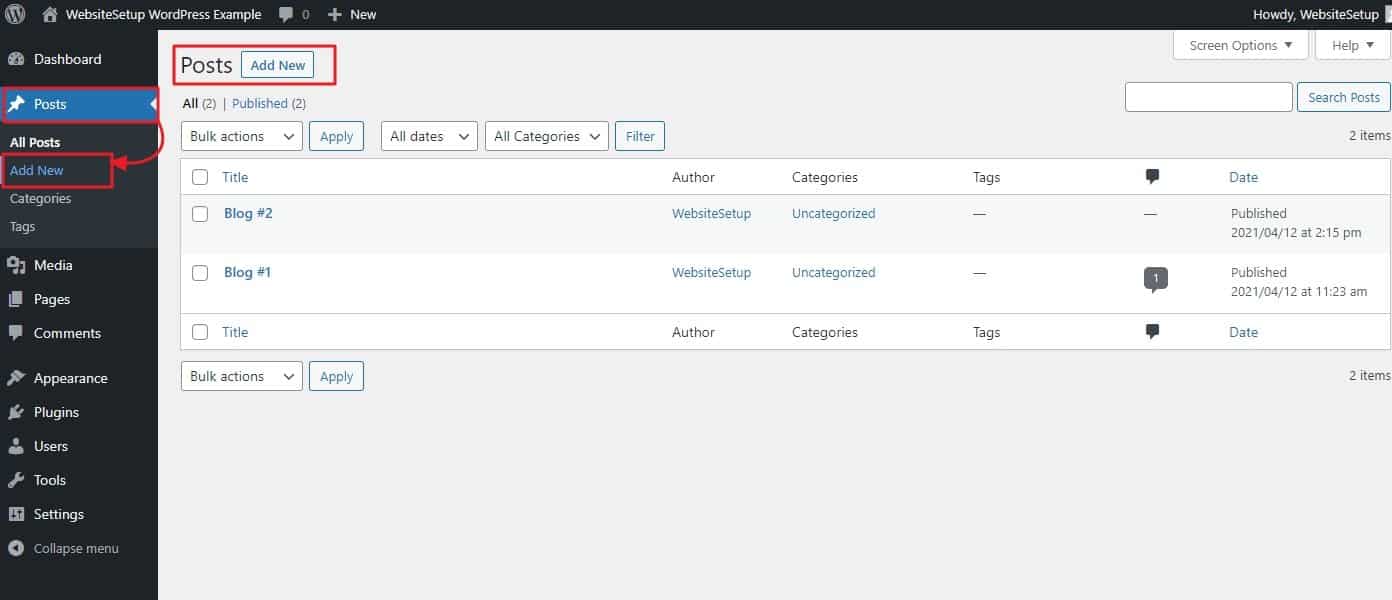 This will get you to the same content editor that you used earlier for your pages. Add a title and content to your blog post. Include images and formatting, headers, lists, and anything else it needs. In the sidebar on the right you also find options to apply categories and tags, define an excerpt, and set up a featured image.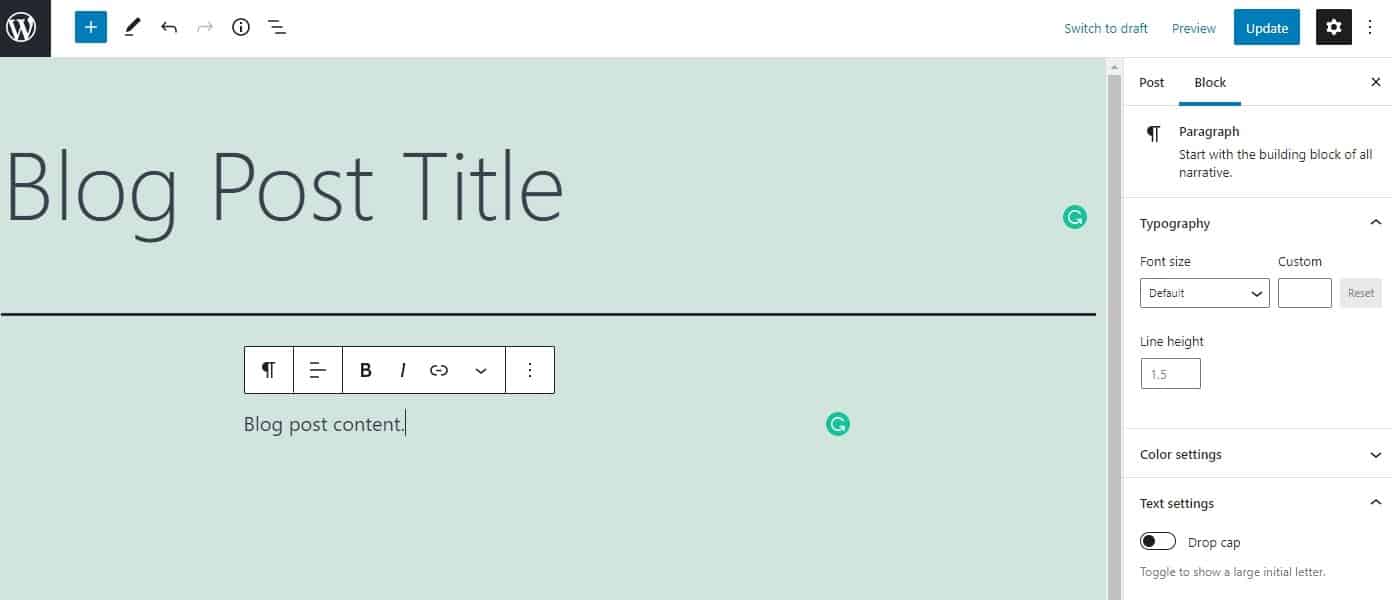 Once you're done making changes, click Publish. Your first post is completed, well done!
7. Adding an Online Store (Optional)
Not every website needs an ecommerce store. But if you want to know how to make a website and include an online store, keeping reading.
The most popular plugin for this purpose is WooCommerce.
You can set it up quickly, it offers many payment options, and a wide range of optimized themes to create an online shop. Plus, it has a variety of extensions available for purchase to customize your e-commerce site and adapt it to many purposes.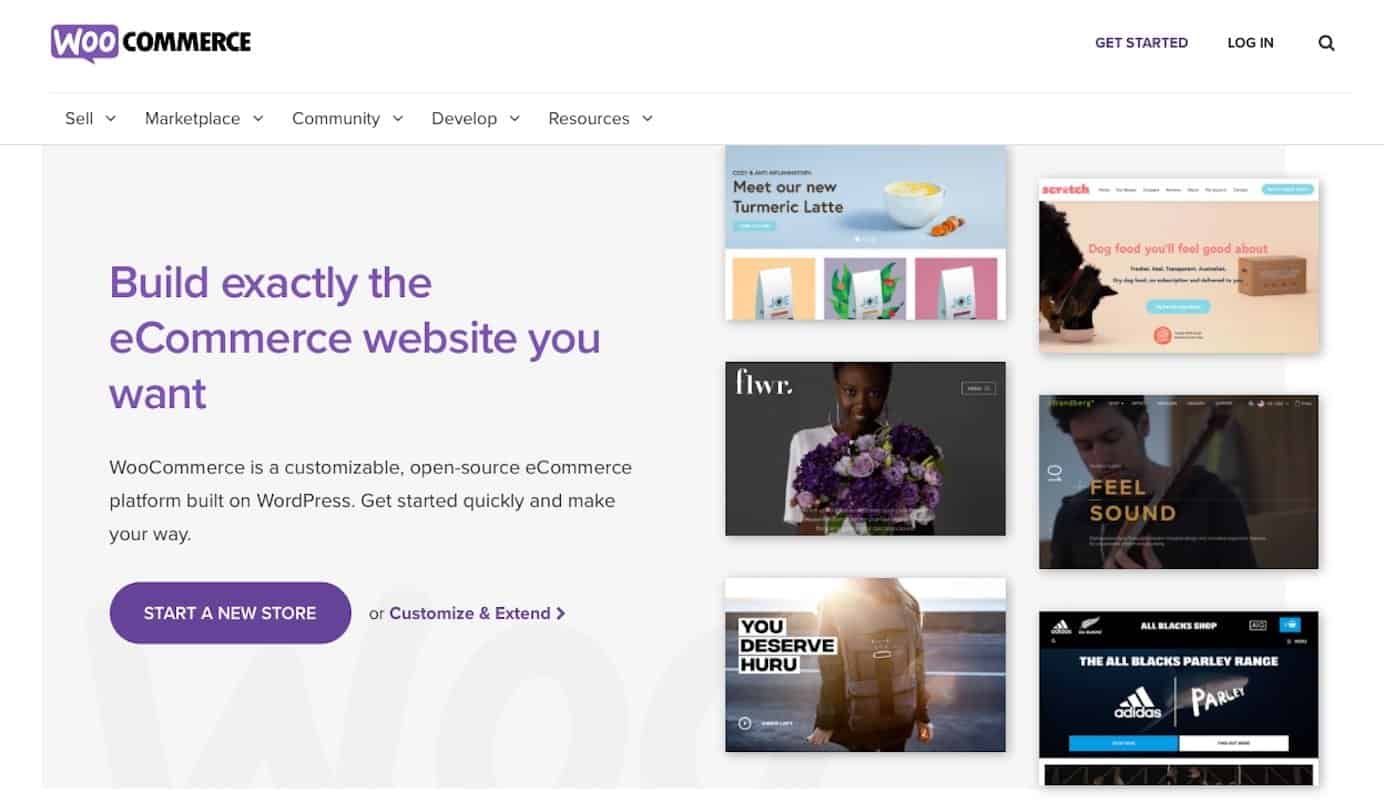 To learn how to add an online store to your website, follow this guide.
8. Configure SSL
A secure sockets layer (SSL) on your website means data sent to your website's visitors is kept secure. SSL is an important search ranking factor, and it's essential to ensure a positive user experience by prioritizing user privacy and security.
To check that SSL is active on your new website with Bluehost, do the following:
 Log into Bluehost.
 Go to My Sites.
 Click Manage Site.
 Find the Security tab on the next screen.
 Under the section that says Security Certificate, verify your Free SSL Certificate or SSL Certificate: Let's Encrypt status. The toggle should be switched to On.
 Verify SSL is set up by visiting your site again. A lock icon should appear next to the domain name in your web browser's address bar.
9. Launch Your WordPress Website
Once your site is ready, it's time to officially launch it. Make sure to double-check your settings and proofread your posts and pages one more time. If everything looks good, click the link at the top of the dashboard that says Coming Soon Active.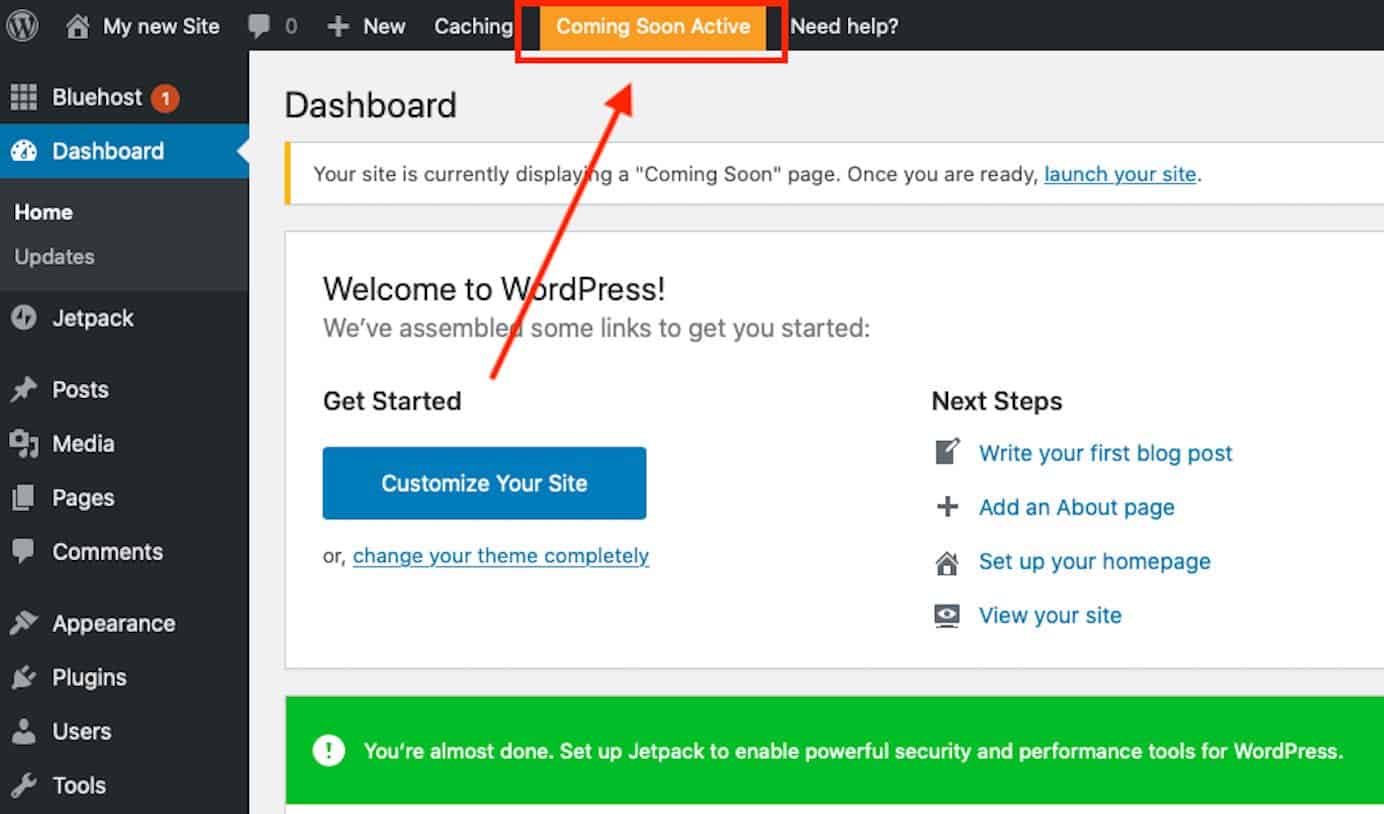 After that, scroll down and hit the button that says Launch your site.

Now you can check your live website.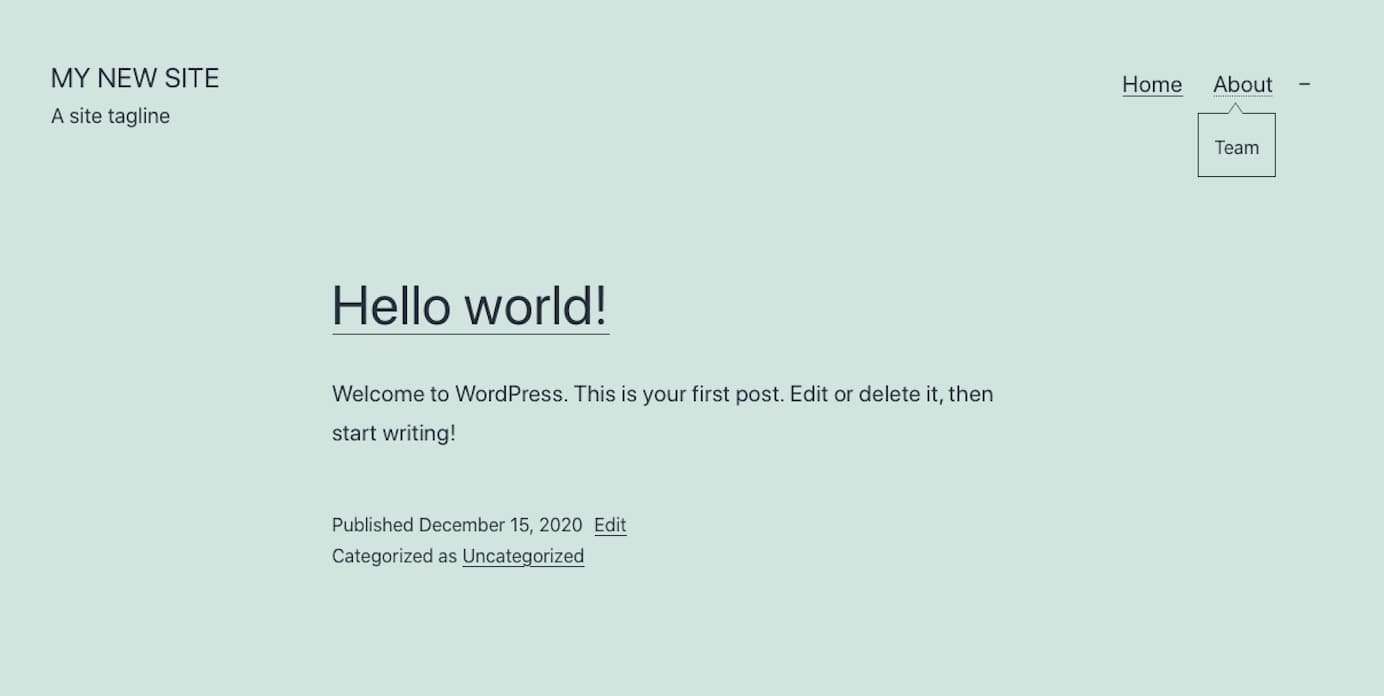 Click through each page to make sure all links work, your text looks good, and your images are formatted properly (you can use this checklist for reference).
finally now you have your own website, Learning how to make a website is not simple, even with a detailed guide to help you along the way.,,you have to practice more and continue to learn even further ..