Ajira Za Afya TAMISEMI 10,285 | Apply Now; In recognition of the Sixth Phase Government's efforts to ensure the Nation's rapid development, including the implementation of strategic economic development and service delivery projects established by previous governments, as well as those established and continuing to be implemented by the Government of,
Ajira za afya TAMISEMI
TAMISEMI Ajira za afya 10,285 | Apply Now ajira 2022, Tangazo la ajira za Afya 10,285
Under the leadership of Hon. Samia Suluhu Hassan, President of the Republic of The Union of Tanzania, and including the UVIKO 19 Projects, the government has prioritized education and health. Along with those sectors, the government has concentrated on the division of labor in other sectors such as agriculture, water, livestock, and fishing, as well as other areas in need of personnel.
Ajira Za Afya TAMISEMI,10,285
The Priority Health Sector has received 10,285 job openings, which include the following: –
7,612 vacancies in Local Government Authorities for Hospitals, Health Centers, and Dispensaries. The President's Office, PMO-RALG, will oversee the recruitment process.
There are 1,650 vacancies for health cadre staff in Regional Hospitals and Regional Referral Hospitals; the Ministry of Health will oversee the recruitment process; and
There are 1,023 positions available at Health Colleges, Other Strategic Hospitals, District Designated Hospitals (DDHs), and Voluntary Agency Hospitals (VAHs) contracted by the government. The Ministry of Health will oversee the recruitment process for Health Colleges and other strategic hospitals, and the Office of the President, PMO-RALG, will oversee the recruitment process for DDHs and VAHs hospitals.
Take a look at the attachments below for more information on TAMISEMI Ajira za afya.
2022 Ajira za afya
Read the attachments Below about TAMISEMI Ajira za afya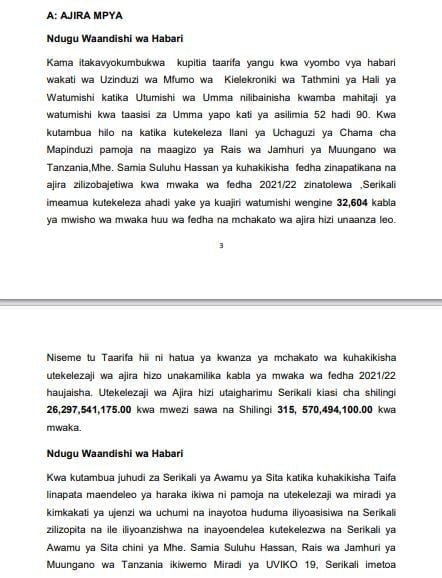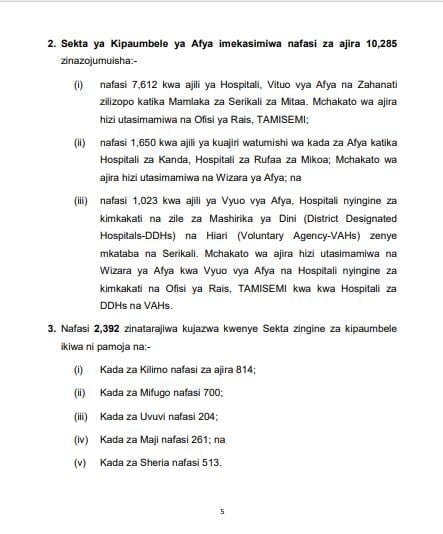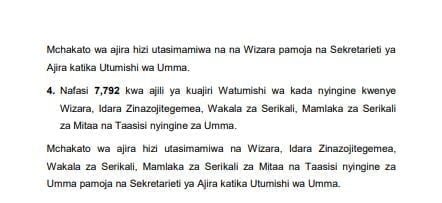 How to Apply for Medical Jobs
(Ajira za Afya 2022) ajira 2022 via www.tamisemi.go.tz
Visit the official website of Tamisemi Mfumo wa maombi ya ajira at ajira.tamisemi.go.tz/.
Create an account by clicking the Register link on the home page.
On the registration page, enter your Personal Information and click the NEXT button.
Complete the Tamisemi Form" completely and accurately.
Upload all required documents and certificates.
Complete the mandatory fields with care.
Select the submit button.
To apply, click here.
TAMISEMI
The Ministry of Regional Administration and Local Government (TAMISEMI) is enshrined in the United Republic of Tanzania's Constitution, Article 8 (1) 145 and 146 of 1977, as well as numerous subsequent amendments.
The United Republic of Tanzania's Parliament passed the Local Government Authorities Act No. 7 (Cap 287) and the Urban Authorities Act No. 8 in 1982. (Cap 288).
The two statutes vested the Minister of Regional and Local Government Administration with the authority to establish District, Village, Small Town, and Local Government Authorities.